Electronic Stethoscope
Peristaltic Pumps
Features
* Continuous indication of the Pulse Rate on digital meter
* Pulse rhythm indicated by light emitting diode and beeper
* No messy wiring – the pick up is by a simple opto - electronic transducer, conveniently strapped on the finger
* Very fast and simple to use
* Provision for mains operation using battery eliminator.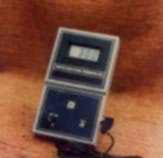 The Digital Pulse Monitor uses an optical finger sensor to monitor pulse rate and rhythm. It is extremely useful in anaesthesia, general surgery, medicine, exercise testing, sports medicine and Bio-research.
Operation
Just strap the opto-pulse transducer on the thumb/finger with velcro straps. Slide power switch ON. The pulse rhythm is indicated by red LED flashes and electronic beeper. The digital meter will display the Pulse in beats per minute.

Technical Specifications
Detection principle : Finger Plethysmography.
Sensor System : Opto-electronic transducer on finger.
Electronic Circuitry: Digital integrated circuits.
Heart-Rate Range : 20 to 300 beats per minute.
Accuracy :+ 3 % of reading.
Power Source : 220 or 110 volts/50 Hz mains supply using battery eliminator. Alternately,6 Pentorch cells; Eveready No.1015 or equivalent
Size/Weight : 16 x 9 x 5 cms/ 500grams.